Details
The difference between something good and something great is attention to details. - Charles R. Swindoll
The jacket is a timeless classic that has become the must-have piece of all appropriately dressed men. After years of evolution with military gear and sports attire, its design is the quintessential icon of masculinity and the assurance that a young boy has become a man.
The jacket serves many purposes and comes in countless materials, but its essence remains the same. It's a modern men's armor.
Handmade and hand sewn with attention to detail.  Our jackets range from deconstructed to half to full canvas infused with each of our clients' individual flair and signature style.  From the hand-sewn lapel Milanese buttonhole to the hand-roll lapel, we strive to create a garment that redefines the measure of a man.
Shirts appeared first in European dress in the seventeenth century as clothing, primarily as underwear for men designed to protect expensive waistcoats and frock coats from sweat and soil. Fast forward to the nineteenth century, where the shirt rose from a secondary item of clothing to an essential garment in its own right. Considered now as a spark plug to a complete ensemble, Hideoki embraces customization of shirts at all levels of possibilities with no limitations.
Most historians agree that the necktie originated in the 17th century, during the 30-year war in France.  King Louis XIII hired Croatian mercenaries who wore a piece of cloth around their neck as part of their uniform.  Alas, neckties do serve a function.  They used to tie the top of their jackets.  Nowadays, the Hideoki gentlemen give a node to the creation and heritage of neckwear but embrace it as one of the final tools to a complete Hideoki ensemble.
Our ties are carefully handcrafted with intricate colors and patterns, complex folding process operation creating 3, 7, and 11 fold ties.  This allows the Hideoki discerning gentlemen to complete their individual style with a modernistic charm and signature flair.
From the earliest times, shoes were made with an essential function in mind: to protect the bottoms of the feet. But as society evolved, shoes found their place as fashion, costume, and ceremony. For these occasions, special shoes were made focusing on form over function, resulting in opulent designs that were rarely worn. Due to their limited use, comfort and practicality were left by the wayside. Today, Hideoki has the same focus on high-caliber design, but at the same time, ensuring comfort, function, and style is paramount.
We only use premium grade leather that requires no alterations—our tanning technique result in a softer and suppler leather that is stable and durable over time. We take extra care and precaution doing our hand lasting, hand upper construction, whether Goodyear, Norwegian, Black Rapid, or Blake, and hand-burnishing process, to ensure a comfortable fit and perfect finish.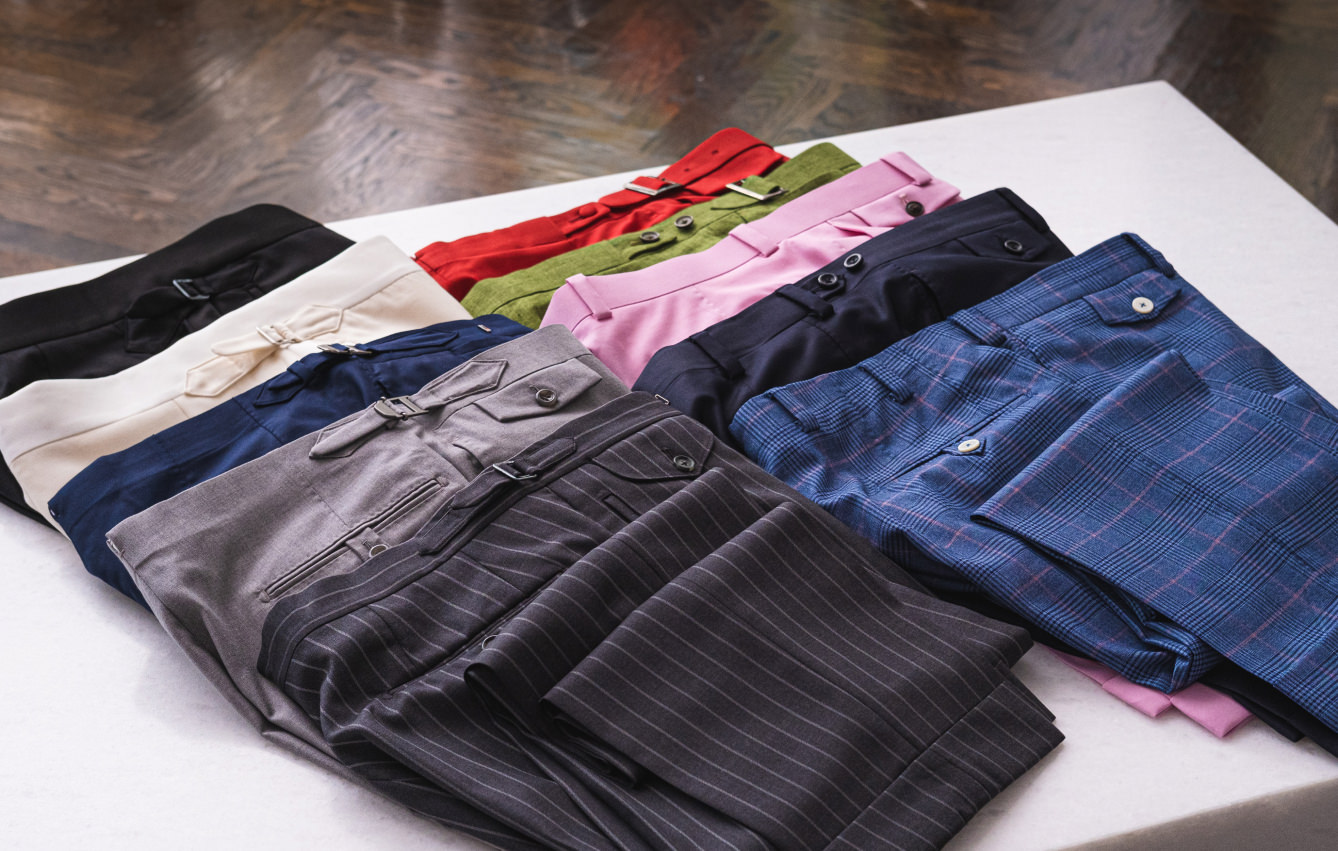 A necessity since the times of horseback combat, trousers were first invented because robes were uncomfortable to wear on atop a horse. Historically, it is believed that those who wore trousers in battle had an advantage over those who were clothed in traditional robes. For this reason, civilizations around the world adopted this form of dress to better survive in battle.  
In this modern age, pants are now a form of Hideoki's sartorial splendor, embracing the attention to details related to thoughtful design elements such as adjustable waistband, pleats, cuffs, watch pockets, monogrammed heel guards, and more.