Bespoke
A HIDEOKI BESPOKE GARMENT BECOMES YOU.
Experience the Best
Born of traditional craftsmanship, infused with an innovative style, and personalized to express the client's individuality, a Hideoki Bespoke garment enhances every client's lifestyle.
Our passion is to create an exquisitely customized garment that the client alone can wear. This goes far beyond providing an expertly tailored fit, to creating a garment designed around the personality of each Hideoki Bespoke owner.
Whether a sport coat and trouser with shirt, a suit and tie, or jeans paired with a shirt, the true fit and rich heritage of each garment shows on our client's physique, as well as in their distinguished stride and confident look.
Our clients are individuals at the top of their game who are comfortable with their own success. Now it's your turn.
Come discover what the Hideoki Bespoke experience can do for you.
Consultation
The joy of designing a client's personal wardrobe begins with a wonderful discovery of the individual himself. Understanding a client's lifestyle, personality, and family, as well as what they do for a living and for pleasure allow us to design garments that are a faithful expression of that life.
It begins with a casual conversation on the art of being a gentleman shared over a glass of fine wine or premium spirits, or while engaging in a game of chess. This conversation is unique for every client, yet the dialog invariably leads us to the same end: a true understanding of the unique and timeless garments the client needs—whether for a special event, a wardrobe enhancement, or a makeover to help them reach a new station in life.
2
Concept
While the consulting stage helps the client identify the particular garments to add to their wardrobe, the concept stage ensures these garments are crafted as a true expression of their life. And this begins with selecting the fabric.
The fabric has its own language—the drape, the hand, the interplay of pattern, texture, and color. Choosing the perfect fabric is paramount to constructing a properly personalized garment. We walk clients through this process while guiding their exploration and indulging them with the most exquisite fabrics from the finest French, English, and Italian mills, including Dormeuil, Scabal, Zegna, Loro Piana, and Holland & Sherry.
To further customize each garment, we encourage the client to go a step beyond by enhancing the fabric with styling options—including unique treatments from the client's own imagination.
Measure
Achieving a customized fit requires more than accurate measurements.
It demands knowledge of the client's lifestyle, sensibilities of the fabric, the purpose of the garment, and the personalization options selected. Having discovered this in the previous consultation and concept stages, we proceed by hand-taking over 50 exact measurements across the touchpoints of the body.
The result is an exquisitely tailored garment that speaks to the unique fit and lifestyle of our client. Best described as a dance between the fabric and the touchpoints of the body, it leads to a distinguished stride, a poised presence, and a true look of confidence.
3
Create
Time-honored and hand-tailored, our traditional, old-world construction methods are the soul behind each masterpiece garment. There are no shortcuts when taking an artisan's approach to creating garments of enduring appeal.
Whether creating a unique hand-cut bespoke garment or a custom pattern personalized with styling options, the creation process runs from four to ten weeks. Each garment is as distinctive as the client it was created for, with an exacting and elegant natural fit that rewards with an enduring appeal and timeless elegance.
Nurture
With a nod to old-fashioned personal service, we keep every client abreast of the progress of their garments, from blue pencil creation to the day when the last stitches are sewn.
We also employ the latest high tech tools to extend and expand the worth of services already rendered—including clients' measurements, specific patterns, and previous orders. This constantly updated wardrobe profile enables our clients to acquire their next Hideoki Bespoke garment with uncommon ease to enhance their life with custom garments that evolve with their own elegant signature.
What Customers Are Saying
"
Hideoki Bespoke embodies class, style, creativity, and culture. Beyond the garment lies the epitome of sophistication.
Monique Cheeks
"
I've been wearing fitted suits for some time now. Until HIDEOKI, buying a suit was an objective to fulfill a business or social need. The experience of HIDEOKI transcends any apparel buying process. The attention to detail, expert craftsmanship and creative guidance to put a client into a work of art is beyond the traditional clothier. HIDEOKI is a visionary in a timeless lifestyle…the gentleman of old reborn.
Berkley & Kateryna Stafford
"
I have been buying custom clothing for decades and nothing compares to Hideoki. I will never buy Louis Vuitton or Gucci again.
Rod Perry
"
I've been a customer of Hideoki for 5 years. The staff is the most knowledgeable I have found and their tailors are highly skilled. In addition, getting fitted for a suit or tuxedo is a fun and relaxing experience unlike no other." It's a lifestyle.
Laneen Morgan
"
Being clothed at Hideki Bespoke was and is an amazing experience. The professionalism is unmatched. I was completely taken care of. It's truly a lifestyle
Dwayne Pope
"
Hideoki is where clients become friends and friends become family!
Vince and Sally Burkett
"
Maison Hideoki is my preference for a Frenchman's need for a professional tailored look
Guy Lescault, Esq.
"
For me, Hideoki excels beyond bespoke fashion. It is truly a lifestyle and is akin to a powerful emotion expressing my individuality, strength and confidence.
Merriman King
"
My grandson and his grandfather, over 50 years apart, look remarkably handsome in their Hideoki suits.
Perry Craven
"
We all want to look our best. We often need help finding what that look is. Dedrick and Hideoki team provide not just the look but the feeling of the look.
Thorns Craven
"
HIDEOKI has been a trusted friend for almost a decade in my most meaningful moments, including my wedding, graduation, and professional life. Each garment is wrapped in craftsmanship and care.
Mohamed Massaquoi
"
Dedrick and his team's attention to detail, craftsmanship and creativity are just some of the traits that drive the most professional and pleasing experience. His passion is contagious, and work ethic is amazing. Custom fit wardrobe and luxurious leather goods are sure to bring more compliments than one could imagine. It's truly a lifestyle!
Keith Byrd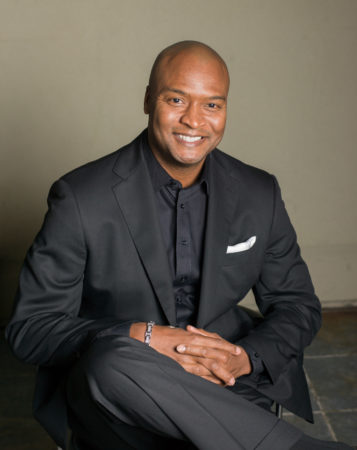 "
I played 13 seasons in the NFL and I've purchased many tailored suits. But when I acquired suits from Hideoki, it was much more than just a purchase…it became a lifestyle, an experience nothing short of excellence! Any and everything you need in custom attire is available within Hideoki's portfolio of various stylish selections. I will continue to expand my specially designed wardrobe with the guidance of this forward thinking brand!
Reggie Kelly
"
Quality and service at HIDEOKI is unmatched. Dedrick You will forever be my go to for tailored apparel. You're a beast in this industry. Thanks my brother!
Sam & Rebecca Jones
"
Hideoki a symbol of excellence! From the first conversation of what you want to the final fitting. All you will receive is the best of the best from Dedrick and his team at Hideoki. "It's a lifestyle"!
Phil Morant
"
Sartorial Magnificence is an Attitude.
Attitude Refinement is constructed by HIDEOKI
John Palmer
"
From timeless elegance to pushing creative limits in the fashion industry, the team at Hideoki nails it every time. Our relationship is more than a customer. It's a friendship. A family. It's a Lifestyle.
Doug Starcke